Types of davit used in lifeboat
Views: 2895 Author: Site Editor Publish Time: 2020-12-11 Origin: Site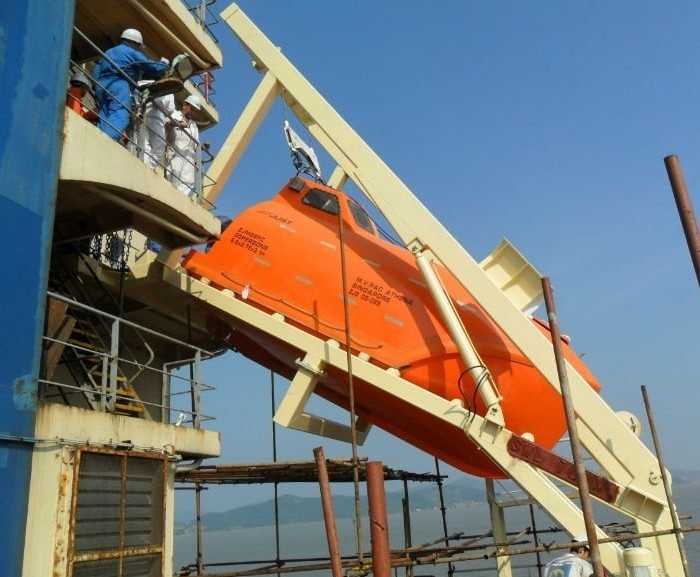 As we all know, life boat was one of the most important equipment at the sea. So, the launching process of lifeboats is extremely important to avoid any unexpected emergency or hurt that may happen. Life boat needs to release into the sea, so it is absolutely necessary to know what types of davits we have.
Lifeboats may be of open, or totally enclose type. The totally enclosed type boat may be launched by davits or Free fall. The Other boats are davit launched.
Types of davit
1. Gravity Luffing Arm Type Davit
The Gravity Luffing Arm Type Davit is comply with relevant requirements of SOLAS and resolutions of MSC and other regulatory requirements.
This davit could launch the boat by its own gravity to the surface of water, and recovering the lifeboat using electric boat winch.
When using the davit, the passengers could pull the remote control cable in the boat to launch or stop the life boat.
2. Free Fall Life Boat Davit
Free fall lifeboat davit can make lifeboat freely launch into water.
This equipment is used to launch Free-fall life boat. and is installed at stern Under IMO pact.
In an emergency condition, the lifeboat can be launched into the sea fast.
Complying with the recent standard of SOLAS. Is designed for the fast and safe rescue of human lives.
3. Platform Type Davit
Platform type davit is a special equipment used on board for launching, Which is installed on the platform.
The davit conforms to the requirements to SOLAS and IMO Resolution.
Boat is depending on it's own gravity with no need any other power.
A permanently mounted motor on the winch is used for hoisting the lifeboat back to the stowed position.